Launching Tier 2 – a tiered link building option in Sape
Now you can build Tier 2 in Sape – we have added a new option for link weight improvement. Now each backlink can be strengthened by buying new links to the donor page. Set a budget, choose Tier 2 links and enhance the effect of the link building.
Now in more detail.
According to the Sape Global Research, the link profile is a key ranking factor in Google and a relatively important one in Yandex, no less significant than, for example, technical optimisation.
Therefore, SEO specialists around the world are looking for a quick and effective way to strengthen their link profile. One of the most popular strategies in link building is called Tier.
How does Tier work?
Tier is one of the link building strategies, in which the donor page is being strengthened with additional links. On the Russian Internet it is called a "multi-tier link building" or "link strengthening".
To put it simply, this strategy implies adding link boosters not to your URL directly, but to a separate site containing your URL. So, Tier 1 includes backlinks leading directly to the site. Tier 2 – links leading to separate pages containing Tier 1 links. Tier 3 – links leading to pages containing Tier 2. Usually, after Tier 3 the link chain cannot be increased.
The diagram below shows how this happens.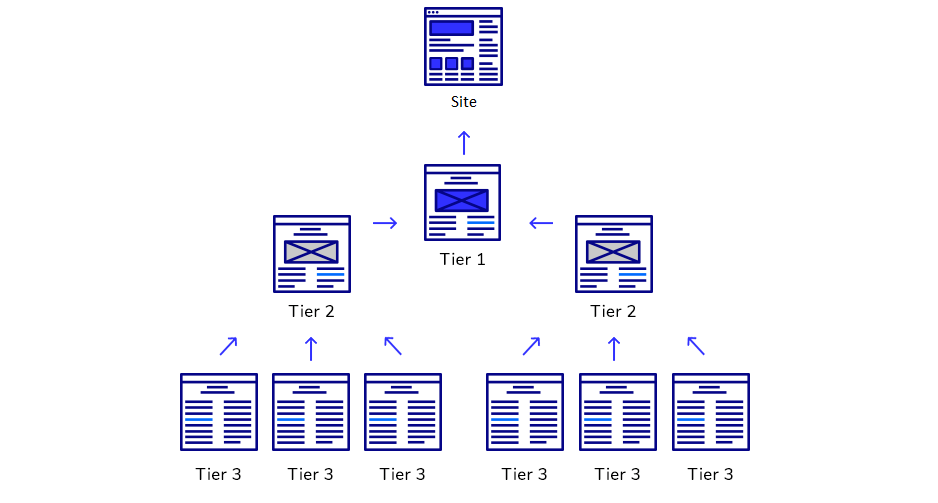 Tier links can strengthen the site's link profile, because an optimised external page with a link to your site can be far more useful than one more additional link to the site.
Second-level pages (Tier 2) accumulate the link weight and pass it to your site. Usually, the specialists choose to strengthen trust links, thereby multiplying the effect of SEO, getting organic traffic and a fast growth in position.
Tier helps to:
Increase the link building effect without risking a link explosion. If you are lagging behind your competitors and cannot quickly build up your link mass, multi-level strategies will help you gain link weight without the risk of sanctions.
Increase the effect of expensive backlinks, for example, eternal ones or the ones from the main pages. If your budget or abilities restrict you from finding a new trust link, you can boost existing ones with Tier.
Speed up indexing and the appearance of links in Yandex.Webmaster and Google Search Console.
Strengthen the site's link profile with optimised external pages.
Tiered link building strategies — a year of work of Sape experts
After a year of research and testing, we have created a solution for our users. The new Sape option automates the Tier 2 network configuring, which makes it available to most specialists. From now on, all purchased links in Links.Sape and PR.Sape can be strengthened.
Features of working with Tier in Sape:
Unique cascade filters will help to select the best sites for tiered link building. The algorithms will find trust sites with high traffic rate, high percentage of link indexing and a predominantly thematic text environment.
The system will independently generate a relevant anchor list corresponding to the promoted page and the booster donor.
Dozens of high quality links will be purchased to strengthen the donor page.
No need to manually monitor the indexing of links, Sape will replace non-indexed links automatically.
If you want to spend your link optimisation budget more efficiently, use SMART strategies. Optimise like an expert!
How to build Tier 2 in Sape
In Links.Sape and PR.Sape accounts, a boost button has already appeared — you can use it to build a Tier 2 in just a few minutes.
Let's see how to do it:
Step 1. Log in to your Sape account.
Step 2. Click the "Boost (Tier)" button or go to the list of purchased links.

Step 3. Select the links you want to strengthen and specify the budget. The minimum cost per one tier is 500 ₽. No tricks here — if you spend less, the algorithms will not work, and the weight of the purchased links will not be enough for a visible result.

Step 4. Click "Start". After the start, the system will automatically build a Tier 2 level using rental links.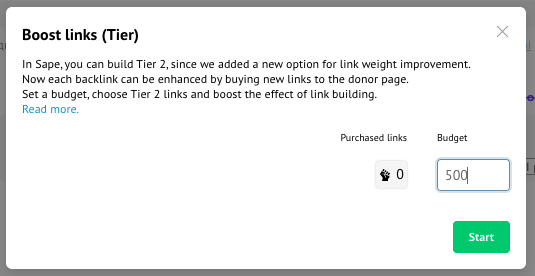 How to change or stop the purchase of links
Special notifications about tiered links will appear in the link lists and on your projects page. You can go to the list of purchased links, stop or adjust the purchase.
Is Tier 2 effective? — Expert opinions
Tier 2 technology is actively used by SEO professionals, which indicates the high efficiency and effectiveness of this strategy. We asked market experts whether they use tiered link building and in what cases should it be used. Here's what the experts say.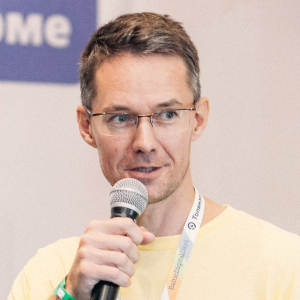 Yes, I have been actively using tiered link building both on Russian- and English-speaking Internet since 2013. With the right approach, tiered links give excellent results and are safe at the same time.
Tiered link building should be used when the topic has difficulties with getting links in other ways. For example, if there are only a few suitable sites for placing links. Another option is when the site already has a good link mass, and you need to strengthen the effect.
Mikhail Shakin. (Shakin.ru)
Yes, we use TIER - 2-4 building when strengthening links on Google. Our research conducted over the past 2 years shows the efficiency of this strategy. We work both with manual strengthening methods, for example, using crowd links and rental links in SAPE, and with an automatic tool GSA Ranker.
If you want to get a faster result with a small number of incoming links, we recommend using tiered link building, as this will also reduce the concentration of anchor links to the desired document. In general, we recommend strengthening all links, this helps both with fast indexing and displaying links in the Google Search Console, and with ranking. In general, we favour organic methods of promotion, tiered link building is part of a comprehensive strategy in working with a link profile. Ramazan Mindubayev. (Trinet.ru)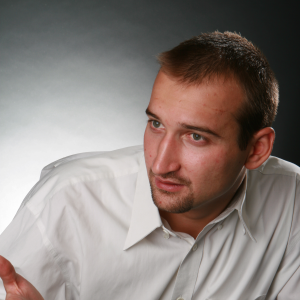 We always use Tier in our work. It is especially relevant and important in niches where semantics is limited, there are very few keywords and the frequency is very low, but the competition is high. Or in general, where there is high competition. We also use it when there are difficulties with link building - the number of relevant and strong links that we can build is limited. Therefore, we strengthen them to get a better result.
First of all, when optimising, we pay attention to the fact that the articles and pages that we strengthen can also get to the TOP for low-frequency keywords, this leads to additional traffic and improves the position.
Taras Gushcha. (Seo.Ua)
We also talked about the practical use of Tier 2 in a case study with the advertising agency Trinet. Thanks to the tiered link building, queries reached the top of Google in less than a month. Be sure to read this story.
So, Tier 2 is a great way to strengthen existing links and get a greater effect from link building. With the new Sape option, tiered link building is now available to all optimisers. Run tiered link building in Sape and push keywords to the top.