Updated features of Sape: Ahrefs parameters in Links.Sape and PR.Sape
In January 2021 we conducted a survey with over 400 respondents from Russia and the near abroad, including SEO experts (SEO agencies department heads, well-known optimizers and technology evangelists). Participants answered 29 questions about ranking factors, link building and search engine optimization trends. Based on the experts' responses we concluded the following:
The "link ranking" factor is a TOP factor in Google, and a fairly significant factor in Yandex (as significant as technical optimization).
Almost all experts face the problem of finding the right donors (it is difficult to find an appropriate donor and it takes a lot of time).
The most significant factors in the selection of donors:
Thematic content (both on a particular page and on the whole donor site);
Traffic on the donor site;
Domain Rating (DR) from Ahrefs is an indicator of a trust level of the donor, which is calculated based on the number and quality of the backlinks to the donor site. DR shows the strength of a target website's backlink profile. It is measured on a 100-point scale (with a value of 20-30 being considered a fairly good value, however, the higher the DR, the better).
We work every day to improve our technologies and the quality of our services. Therefore, in order to make the search of donors in our database faster, easier and more efficient for you, we decided to add new criteria to the donors search filters in Links.Sape and PR.Sape: metrics from Ahrefs and traffic metrics.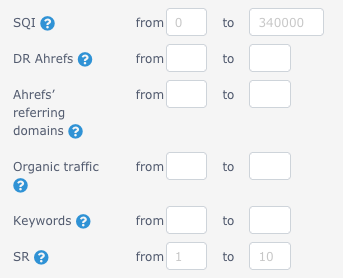 Ahrefs metrics
When analyzing websites SEO specialists around the world use Ahrefs indicators: link equity, organic traffic, the number of keywords ranking the domain in the TOP 100 search results of Google, etc. These indicators are extremely important in determining a truly high-quality site.
Now these metrics are available to Sape users, and it will not only make the search for the right donor sites easier, but prove that Sape is the largest donor database, in terms of both total number of sites and the number of sites with good traffic and DR (of 20 and above):
1. In Links.Sape there are more than 20 thousand sites with DR of 20 and above and more than 8 thousand sites with DR of 60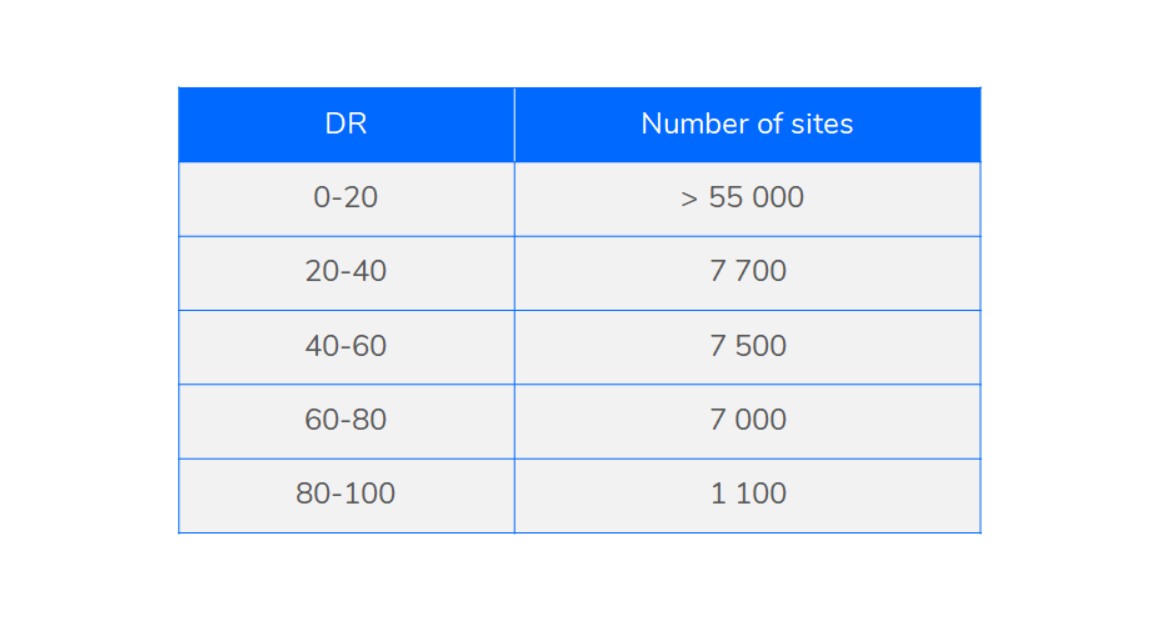 2. In PR.sape there are more than 4800 sites with DR of 30 and above (and, as you may see on the screenshot below, one of the donors is a GoogleNews participant with DR of 50, at a price of only 1,5$).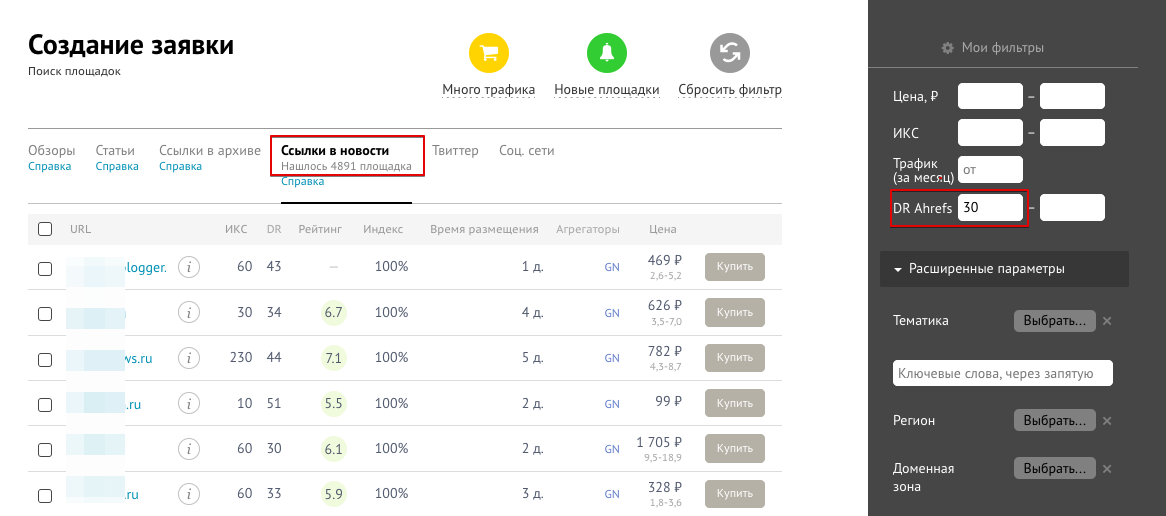 Traffic metrics
In order to collect traffic information on Sape sites, we use our unique in-house development – the Acint counter. This is a technology that allows you to count and store data on all site visits, thereby collecting the most accurate traffic data. This allowed us to get data on almost 100% of the sites that sell rental links.
Now Links.Sape has a new "organic traffic" filter, which allows to see the amount of visitors coming to the site from search engines per month.
Choosing between full and organic traffic, we opted for the organic one, as it is in high demand among our users. However, we are already working on a new filter for the full-volume traffic, so keep an eye out for new releases, we will let you know as soon as all the improvements are implemented and tested.
Due to technological limitations in permanent links, such data are not available for all sites. However, we are already working with webmasters to get the traffic data of their sites (we use data from counters, connect alternative sources for measuring traffic and work with our partners). In February alone, the number of sites with measured traffic indicators had tripled.
We are actively working on expanding the number of sources that allow us to track traffic on sites, and in the coming weeks we plan to approach 100% data coverage in all formats.
Don't miss an opportunity to buy links with a high DR on PR.Sape and Links.Sape right now!