Sponsored links (rel="sponsored") and Google
Recently, Google has announced that it counts sponsored links / guest posts while ranking useful content. This proves once again that the link factor is key to Google ranking factors.
In other words, the search engine recognized such backlinks and told webmasters how to properly mark them up with the rel = "sponsored" tag. So, the SEO specialist needs to pay more attention to working with the link mass.
Now it is impossible to forecast how the changes from Google will work in practice, it will be clear only after some time and after observing the market reaction and the actual change of algorithms. What is important to know today:
It is likely that there will be more and more such links.

Links.Sape is a tool for professionals, so now we are giving specialists the opportunity to use Google recommendations and correctly mark such links with the rel = "sponsored" tag.

Today you can experiment with different strategies in Links.Sape to build the most natural link profile.
At the moment, in Sape, Sape backlinks (classic, block, content) and guest posting (reviews, links in the news, articles in PR.Sape) support such an option.

How it works in Links.Sape:
The advertiser decides in what form (with what rel) to place backlinks: dofollow without rel, with rel = nofollow or with rel = "sponsored" tags. To change the attribute, go to the URL settings and set new settings.

The attribute will be automatically changed for all links of the given URL, and backlinks will be displayed on the site with the selected rel attribute.

As before, these settings can be adjusted no more than once a day. In practice, we see that the option is usually changed for a small number of projects and no more than once during the entire link building campaign.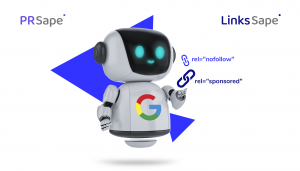 How it works in PR.Sape:
When creating an application, the advertiser can choose how his link will be placed. The options are the same: dofollow without rel, with rel = "nofollow", or with rel = "sponsored" tags.

When placing an application, the webmaster sees this requirement and places a link with the required rel attribute
The rel = "sponsored" and rel = "nofollow" attributes allow you to create more natural link profiles, which positively affects project ranking.
Thanks to the new options, SEO specialists will be able to manage the link profile of their projects as flexibly and accurately as possible. They can place exactly the backlinks that are needed.
To make the promotion more effective, we recommend allocating part of the link budget or additional resources for placing sponsored links.